Surfing the Himalayas Goes "Higher"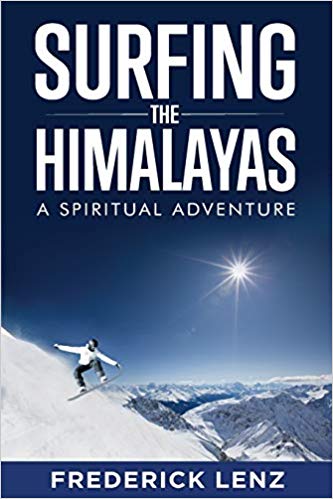 (Liz L.) During the Lenz Foundation Collaboration Conference of June 2014, six Rama students got together in Colorado at the Shambhala retreat center to discuss next year's planning for the Rama Meditation Society. One topic was the marketing of Surfing the Himalayas. As we spoke of its themes and target market, a young conference attendee who had joined us in the meeting room remarked, "All the snowboarders know Lenz."
That was interesting! We subsequently contacted Transworld Snowboarding, the world's largest snowboarding site, to run an ad on their online magazine. The ad salesperson proposed we try a "site takeover" for five days instead of a square online ad for thirty days. Same cost. One of our awesome graphic artist friends worked on the graphics and delivered an amazing ad that brought 1,000 new people to the Surfing download page.
Because of this cool marketing statement, we were contacted by Teton Gravity, the largest winter sports website in the world. We were asked if we wanted to be a partner in the Los Angeles premiere of the film "Higher" featuring renowned snowboarder Jeremy Jones. "Higher" was filmed in part in one of the highest peaks of the Himalayas, and Teton Gravity felt there was a connection. For a fee, we would have a table where we would hand out physical copies of Surfing to the L.A. winter sports set.
Having a table and handing out books was a bit outside our comfort zone, but after thinking about it, we felt it was worth a try. The event was expected to bring 1,000 people and would take place on the Santa Monica Pier on October 2. Over the next three-week period, we printed an additional 400 copies of Surfing and produced two stand-up flags, one tablecloth, and one banner. Everything looked spectacular in the design phase thanks to another one of our wonderful graphic artist friends. Two Rama students in L.A., Glen, and Ian, offered to help, and I flew out to L.A. from the east coast.
On the afternoon of October 2, we met to set up our stand. Teton Gravity loaned us a tent and a table. All the props had arrived the previous day at Glen's house. We felt great about our booth and as people started to trickle in, we stood and handed out books and had the table stacked with books. By the start of the event, when about 450 to 500 people had shown up, we had given out about 125 books. One young snowboarder came up to Glen and said, "This is the greatest book I have ever read! It's the only book I have ever read!"
Then we all sat back to enjoy the evening. Jeremy Jones was there with his filmmaker brothers and introduced the movie. He told the audience that he had just finished reading the book, Surfing the Himalayas when a call came in to suggest he film the final part of "Higher" in the Himalayan range. Because he had really enjoyed the book, he decided to do it. He told the audience it was "Buddhism light" that he found helpful.
At that, people started coming over to our table and we soon had given out another 50 copies. The film began, and it was excellent. Jeremy and his team conduct carefully planned excursions where everything is tested and every precaution taken to achieve the ultimate filmed ride – essentially Jeremy snowboarding down almost 90 degrees, vertical slopes. You can take every precaution in the world, but it is still Jeremy's skill as a rider that allows him to take these rides. It was stunning to watch. I think everyone felt high afterward, as you do when you witness a well-done film of an impeccable journey in an ancient place of power.
At the end of the film, one of the film's producers (not sure if it was Jeremy) picked up the microphone and said, "Be sure to stop by the booth and pick a copy of Surfing the Himalayas. Jeremy really liked the book." With that, we piled every last book on the table and every single copy was taken. Not one left. It was a warm and beautiful night on the pier. We felt everyone there was touched by magic.
Next, we were invited to participate in two more premieres of "Higher," one in Boston and one in New York City. We went for it. A total of seven volunteers helped. Each event was outstanding in its own way. Here are the results:
Santa Monica Pier – 400 books
Boston IMAX Aquarium Theater – 312 books
New York Best Buy Theater in Times Square – 728 books
A total of 1,440 Surfings were given to young winter sports enthusiasts in fun, happy settings! Many thanks to the artists, volunteers, and everyone who contributed to the Rama's Materials Marketing Campaign for helping to make this happen!!!