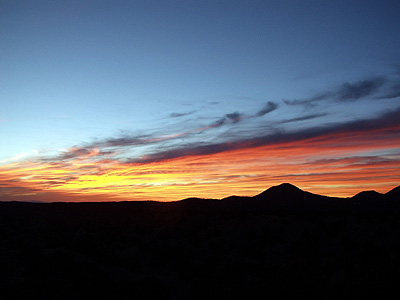 Fall Equinox Retreat – Santa Fe, New Mexico
Fri, September 23, 2016 @ 1:00 pm
The Canyon of Light Meditation Retreats take us to beautiful and pristine places of power in the Southwest United States featured by Rama on the Zazen Canyons of Light video and music CDs.
Journey with us to places of power near Santa Fe, New Mexico (including Bandelier) on the weekend of the Fall Equinox, September 23-25, 2016. New Mexico – the Land of Enchantment – has many beautiful places for meditation and self discovery. Our trip leader traveled with Rama to these places.
Main activities – meditations, hikes, food/friendship. Hikes will be moderately strenuous and magical. We will travel to particular locations that Rama took small groups of his students.
We will meet for dinner on Friday night. We will meditate and hike on Saturday including a picnic lunch followed by a dinner in Santa Fe. On Sunday morning we will continue our meditation and hikes.
If you plan to join us, please arrange to travel on Friday to Santa Fe, New Mexico. Plan your return for Sunday afternoon. Program Fee $50; Each participant is responsible for their own lodging, meals and other travel expenses. All participants must sign a full liability release.
Please rsvp to rsvp@ramameditationsociety and more details will be provided. Please feel free to email us with any questions. Start dreaming your way to Light and Enchantment.
"There are places of power, places where there is more power – in the Southwest United States, in certain mountains, deserts, sometimes by the sea. If you spend time in these places, it increases your vibratory power. If you meditate in them, you can have very deep, profound experiences and store a lot of power. Pilgrimages are journeys to places of power." Rama, Power, Enlightenment Cycle