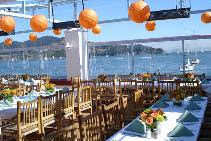 Rama's Birthday Celebration 2016
Sat, February 6, 2016 @ 6:00 pm
On February 6, 2016, you are invited to a zany and sublime Celebration of Rama's Birthday at a festive restaurant in Tiburon, CA. This evening, honoring the life and teachings of Rama – Dr. Frederick Lenz, will be filled with fun, music, meditation and song. Come celebrate, play, be silly, be still.
Here's what is on the Agenda for the evening, not in any particular order:
Live concert by Bodhi-Joaquin Lievano, original member of Zazen
Karaoke – sing your heart out and more Karaoke
Chat by the water with friends
Open bar
Delicious authentic Mexican cuisine
Meditation
Circle of Light
For those interested in organizing other weekend events, such as a meditation, hike, tour, etc, please e-mail us at
info@ramameditationsociety.org
. For registration details, sign up for our newsletter or send an inquiry to rsvp@ramameditationsociety.org.