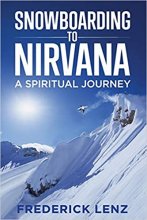 RMS Book Club (June) – Snowboarding to Nirvana
Sat, June 26, 2021 @ 5:00 pm
On Saturday, June 26th at 2 PM PST, 5 PM EST, the RMS Book Club will discuss Snowboarding to Nirvana by Rama. This session of the Book Club will be facilitated by Gaile.
"Because of your good karma from past ages, you have found your way back to the path. This book is the distilled elixir of dharmic practices. Pay close attention to that which follows. It will lead you on the short path to the clear light of reality–the celestial state of Buddhahood, where the world as you know it will stop, and the pain of sentient existence will come to an end. Be diligent in your practice. Be patient. You will succeed in your task in this world. Your task is consciously to rejoin the stream of perfect consciousness that abides both in and around all things." Excerpt from the Handbook of Enlightenment in Snowboarding to Nirvana
The RMS Book Club reads books recommended by Rama or that students of Rama's teachings find inspirational. See our recent Blog for details. Please consider joining our lively discussions.
Email rms_bookclub@yahoo.com to join our mailing list and receive dial-in information for this call.
Namaste,
The RMS Book Club