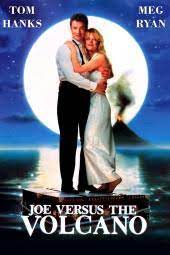 RMS Movie Selection Discussion – Joe Versus the Volcano
Sat, June 19, 2021 @ 2:00 pm
Through the RMS Movie Selection series, each month a movie (from the list of movies Rama suggested that his students watch) will be announced. We will meet every 3rd Saturday of each month 11 AM PST, 2 PM EST to discuss the selected movie.
The movie selection to watch and discuss in June will be Joe Versus the Volcano (with Tom Hanks and Meg Ryan). The facilitator of our discussion will be C.J.
If you don't own the movie, can't borrow or rent the DVD, then we will help you find a streaming service where you can see the movie on a laptop, IPad or phone.
https://www.moviefone.com/movie/joe-versus-the-volcano/34777/where-to-watch/
"I saw the moon when we were out there in the ocean, shining down on everything.
I've been miserable so long, years of my life wasted, afraid.
Been a long time coming here to meet you – a long time, on a crooked road.
Did I ever tell you? The first time I saw you, felt like I'd seen you before."
– Joe in Joe Versus the Volcano
See the RMS newsletter for dial-in information or contact us at rsvp@ramameditationsociety.org