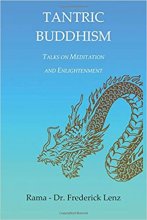 Metaphysics
What the teacher does is teach the spiritual aspirant to compact their life, strengthen it, get all the junk out of it, and learn to be happy, free, and strong.
Gradually the metaphysical teacher guides the student to step into other dimensional realities to stand and gaze with awe and wonder at the universe.
Metaphysics is talk 17 of 27 in the Tantric Buddhism series.
© ℗ 1990, The Frederick P. Lenz Foundation for American Buddhism.