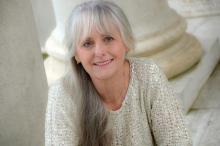 Website: http://LuciaRene.com
About: Lucia René is a mystic and a spiritual mentor to thousands of people around the world. Her unceasing exploration of consciousness has spanned almost 50 years.
Thanks to Rama, she is an ordained Buddhist monk and has a classical spiritual background. These days, she is best known for continually pushing the envelope of New Paradigm consciousness. Through activations, guided meditations, and "Transmissions of Light", she helps people navigate alternate dimensions and introduces them to places in consciousness they've never been.
Her award-winning Unplugging the Patriarchy is more of a mystical experience than a book. It has helped thousands of people shift their perception of the troubled world in which we live.  Listen to her talk about her journey on the American Buddhist discussion recording – New Paradigm Consciousness (2017).
Lucia's strong suit is her ability to communicate, in crystal clear terms, complex spiritual ideas. Her specialty is mysticism—the ability to navigate alternate dimensions—and she uses the Sacred Voice to help others do the same.
Classes and Offerings: Lucia studied with Rama for 17 years and has been on a spiritual path for almost 50 years. She works mainly with women, focusing on their empowerment and enlightenment. She gives teleconferences online, workshops in the U.S. and Europe, and retreats in Ecuador. Her award-winning book, Unplugging the Patriarchy, recounts her own dharmic work and embeds Rama's teachings throughout. It has introduced thousands of people to Rama's work.