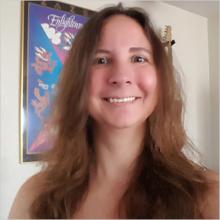 Location: San Diego, California
Website: http://turiyabliss.com
About: Turīya (Jenna Sundell) teaches Trikaya Buddhism, a practice consisting of meditation, applied mindfulness, an excellent sense of humor, and respect for all who seek Truth. For details about her teaching offerings, please see her Meditation teacher page.
Turīya is the author of several books, including:
Unreasonable Joy: Awakening through Trikaya Buddhism
Worlds of Power, Worlds of Light: Meeting an American Buddha
Peace with Pain: Your Guide to Life in a Malfunctioning Body
She also teaches through her blog: www.turiyabliss.com and on www.Facebook.com/Turiyabliss and Instagram and Twitter @turiyabliss.
Classes and Offerings: Discover more about Trikaya Buddhism: www.trikayabuddhism.com Learn more about Dharma Center and our class schedule at www.DharmaCenter.com