Reflections from RMS Canyons of Light Trip to Joshua Tree Dec 2012
(by Chinjandra)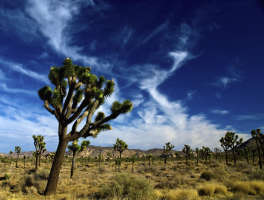 Twelve of us traveled from the West, Southwest, and Midwest to enjoy the immense beauty and powerful silence of the Joshua Tree National Monument. The RMS Canyons of Light trip in December 2012 was bright and transformative.
We started in Hidden Valley on a hike through magnificent boulders of rock and hidden trails. We found a spot off the beaten track and had a wonderful meditation surrounded by natural beauty, boulders, guardians, and breezes. We continued our hike and left the Valley after about 2 hours.
By then we were hungry and shared a spontaneous picnic which everyone contributed to. Food tastes so much better when it is shared with friends in a land of majesty. We sprinkled lunch with stories of trips to power places and fun food fests with Rama.
Our next stop was Barkers Dam for another hike and meditation. We then went to Keys View where the wind blew through us. Rama brought us to this spot on a number of occasions for its strength and power of seeing.
Before our caravan left the park, we stopped and made a circle of power and shared our gratitude for one another, the land we were privileged to enjoy, and for our teacher who led us to its wonders.
That evening we meet for a feast at a local Indian restaurant where we ate, laughed, and relaxed. Throughout the trip, the students who studied with Rama (while he was in the body) shared stories with those who have discovered Rama's teachings in the last few years. The new students shared how their lives are being transformed by meditating and interacting with Rama's teachings. We all learned from each other.
One of the participants on the trip was a new student of Rama's teachings who learned about Rama from the web. This individual stated that through interacting with Rama's teachings online since March and applying what she learned in her life, she considered herself Rama's student and came to the trip to meet other students. This encouraged all of us to reach out through our online community to seekers yearning to find a path for their personal transformation.
Joshua Tree was magnificent. It seemed to me that the beings that guard and protect this wonderful place of power were showing off its beauty. The land was shiny and sparkling with light.
We enjoyed the beauty, silence, and power of this magnificent Canyon of Light. Rama pointed these places out to us for a reason.
We are talking about which Canyons of Light location to go to in March and/or May/June for our next Canyons of Light retreat. We hope you will join us in exploring these wonderful worlds of light.