Energy Body and Kundalini Activation Workshop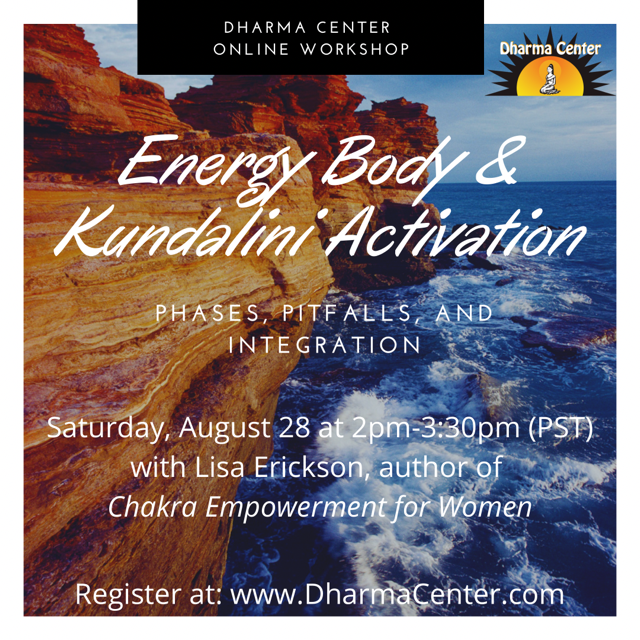 Workshop: Energy Body and Kundalini Activation: Phases, Pitfalls, and Integration – Saturday, August 28 at 2 pm -3:30 pm (PST)
Sponsored by The Dharma Center
Description: Kundalini is the spiritual awakening energy that moves through your subtle energy body. Many spiritual traditions include practices and empowerments for activating its movement, but it may also become activated spontaneously through profound or intense life events.
In this experiential workshop, energy worker Lisa Erickson will guide you through gentle activation, and talk about the role of kundalini in the spiritual awakening process.
Topics include:
– Levels of the subtle body, including the karmic body
– Role kundalini plays in surfacing, activating and clearing of karmic patterns
– Relationship of the chakras and kundalini flow
– How to smooth and process kundalini shifts
– Differences in the feminine and masculine bodies' processing of kundalini
– How trauma may impact kundalini activation and processing
This 90 minute workshop will include teachings, guided exercises, and Q&A. Register Here.
Lisa Erickson is an energy worker specializing in women's energetics and sexual trauma healing (though this workshop is relevant to those of any gender identity!) She is the author of Chakra Empowerment for Women and The Art and Science of Meditation, both through Llewellyn Worldwide publishing. She is certified in multiple energy healing modalities and meditation instruction traditions, as well as in trauma-sensitivity. She can be found at www.EnlightenedEnergetics.com and on FB and IG as @ChakraEmpowerment, as well as on Twitter as @MommyMystic.