In a Flash – My Life Changed Forever!
(by Roger Cantu)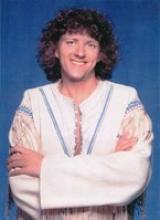 It was 30 years ago on Valentine's Day when I met Rama. I would like to share my story of that day with you on the anniversary of the day that changed my life forever.
It was Valentine's Day 1983. I was very depressed on that day. I was a 20-year-old UCLA student and didn't have a date. After attending a few classes during the day, I decided I needed some ice cream to lift my mood. As I walked towards the student union, I noticed a beautiful sunset on the horizon. I took a deep breath and walked into the building. I took the elevator from the student store to the ballroom level, in order to walk across the bridge to the ice cream store. As soon as the door opened, I noticed a large poster at the entrance to the ballroom. The poster had a picture of funny looking guy with long blond curly hair. The poster said, "Free meditation seminar February 14 & 15."
I also noticed that many nice-looking women walking into the lecture hall, and all of them were very well dressed. I was impressed. I thought I should have some ice cream and then check out the lecture.
After having some ice cream, I walked back to the ballroom. This time I noticed a young woman that picked my interest. I walked into the room and was handed an application to study with Rama. Then, I found a seat near the front next to the young woman I saw in the hallway.
"Hi," I said. "Have you ever seen this guy before?"
"Seen him? I'm a student of his." She said with a slight hint of arrogance.
"What's your name?" I asked.
"Laura." She said and looked the other way.
"So what is this guy is he like?" I was trying to be friendly, even though I was getting the cold shoulder.
"You'll see." She closed her eyes and started to meditate.
I started to look around the room and noticed the space-age music in the background. There were about 200 people sitting in the ballroom, most of them seemed to be in a deep trance created by this music. I was really wondering what this music was, when Laura turned around said to me, "it's Oxygene by Jean Michel Jarre. He is a new age artist." I looked at her wondering how she knew what I was thinking.
"Wow, I never heard anything like it…" I said.
At that moment, Rama walked on stage. He was very tall, had long blond curly hair, and was very charismatic. "Hi there," he said. Rama sat down on a black leather couch and started to meticulously organize his coffee table. He had a small cassette player connected to the sound system of the auditorium.
I don't remember what he talked about that night, but I remember him being very eloquent and having very elegant mannerisms. After his lecture, we took a break and I walked around the room. There was a mixture of very well-dressed people in the audience and college students wearing jeans and t-shirts. I belonged to the second group and felt a little under-dressed.
After the break, Rama answered some questions and then we started to meditate. I didn't feel much during the meditation. I was lost in the electronic music that he was playing. Suddenly, the meditation ended. It felt like it was just a five-minute meditation, but it was much longer, probably a half-hour. After the meditation, Laura quickly got up and left the room. I walked out slowly feeling nice and relaxed after the meditation.
The next day, I was supposed to attend a student organization meeting at the same time as the meditation seminar, but when I got to the meeting, it was canceled. I walked back quickly to the ballroom for the second night of meditation with Rama. I was very excited!
I found Laura again and this time she was saving a seat for me near the front. Rama walked in again and started talking about meditation. The longer I sat in that room, the better I felt.
During our last meditation that evening, I started to feel something. I felt this tingling sensation at the bottom of my spine. Then, I felt some very powerful energy moving up my spine, past my navel, up to my chest, and then it reached the center of my forehead. Suddenly, I felt an explosion on top of my head and saw a flash of white light in front of my closed eyes. I was in ecstasy. My body was trembling and felt embraced by the light. I was in a different world – a world of pure light. Slowly, the light went away, and I was back in the normal world.
At the end of the meditation, Rama bowed, thanked us for being there, and walked off stage. I turned around to look at Laura. I described my amazing experience to her and she acted like it's was no big deal. "It happens all the time," she said. She walked away and I sat there for a while.
When I got home, I opened the application to study with Rama. I filled it out and noticed the last question… "What is your favorite ice cream flavor?" Ice cream? I couldn't stop laughing…
That meditation, that flash of light, changed my life forever. I have meditated for over 30 years now, and my life has blossomed because of that night. I am eternally grateful to Rama for coming into this world and teaching us.