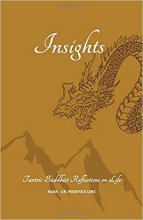 Insights – Tantric Buddhist Reflections on Life
Insights: Tantric Buddhist Reflections On Life is Rama – Dr. Frederick Lenz's book of poems that immerses you in the magical, cosmic, poignant, radiant, courageous, and silly world of Tantric Buddhism, also known as the fast path to enlightenment. Available in paperback and on Kindle. 
Life is not what we think, this book teaches us, and only by learning how "not to think" can we gently and deeply probe life's mysteries. Along the way, we learn the importance of giving it up, dancing alone, and letting go.
Insights illuminates spiritual topics with poems on yoga, enlightenment, meditation, karma, dharma, happiness, mortality, immortality, self-knowledge, and freedom. Insights also provides an enlightened perspective on so many aspects of life including love, sex, fear, death, and everything in between.
Any time life seems confusing and you could use some guidance and inspiration, pick up this book, read its poetry, and dive into wisdom, brightness, and humor.
"The spirit seeks oblivion. To dissolve in the white light of eternity, To lose and find itself endlessly in Oceans of shifting and shimmering light." Rama – Dr. Frederick Lenz
Bulk discounts are available for teachers, contact hello@livingflow.com