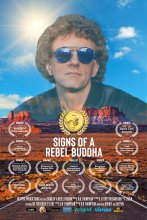 Signs of a Rebel Buddha – Documentary Film
"Signs of a Rebel Buddha" examines the teachings of unconventional spiritual masters in an attempt to understand what makes them unique.
The film uses the teachings and life of Rama – Dr. Frederick Lenz – as an example and weaves in images of Rama and Zazen music throughout.
"Signs of a Rebel Buddha" was developed by D.R. Thompson, an award winning documentary film maker and student of Rama. The film has been shown at 19 film festivals and won five awards. We hope you enjoy this new treasure.
Update: A poster of the film is available for purchase.