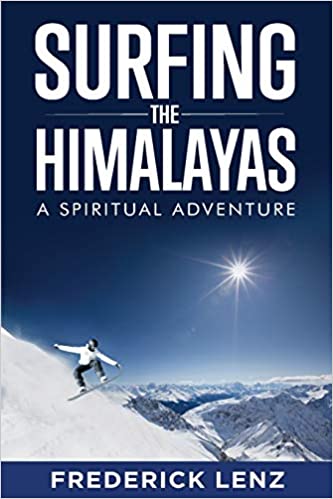 Surfing the Himalayas
A SPIRITUAL ADVENTURE
Charged with energy, humor and insight, Surfing the Himalayas is the fast-paced story of a young American snowboarder who travels to the Himalayas seeking the ultimate high. While there he surfs into an experience more transcendent than he could have ever imagined.
In an accident of karmic fate, the young man plows into Master Fwap, a Buddhist monk who becomes his teacher of snowboarding and enlightenment. Using snowboarding as a path to enlightenment, the wise and gentle Master shows the teenage snowboarder how, by freeing his mind and spirit, he can master any mountain and himself.
"This account of my Himalayan adventures is based on a series of experiences that occurred to me some time ago in Nepal. I have taken the liberty of transforming these accounts, even though they are based upon real life experiences, into a work of fiction. I hope that the internal and external experiences presented in the following pages both entertain and enlighten you."
— Rama – Dr. Frederick Lenz
"The truest of snowboarders will find spiritual stimulation. READ THIS BOOK! You will live the experience."
— Chuck Barfoot Snowboarding pioneer
Owner, Barfoot Designs
"Whether you've experienced the sensation of extreme snowboarding or not, Dr. Lenz has created a metaphor that helps describe the soul of snowboarding through Tantric mysticism and conversely, mysticism through snowboarding. When you read it, you'll get it."
— Chris Sanders
Snowboarding pioneer
Former President, Avalanche Snowboards Inc.
"Dr. Lenz's Book Surfing the Himalayas renewed and refreshed my love for the purity of life in the mountains. It's the 'Inner game of Skiing' meets 'Zen and the Art of Motorcycle Maintenance.' Insightful and FUN! Had I had an instructor like Master Fwap I certainly would have won even more World Cups!"
— Julie Parisien
Former World Cup-Olympic Skier
Download a Free Abridged Audiobook – Living Flow Website
Bulk discounts are available for teachers, contact hello@livingflow.com