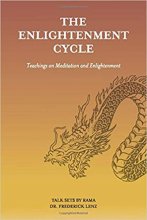 Enlightenment Cycle Book
The Enlightenment Cycle talks, recorded by Rama – Dr. Frederick Lenz in 1992, are must-have coursework for students of American Buddhism. This book of twelve transcribed talks is a summation, a compressing of knowledge that contains a vast body of information. While each talk covers many subjects, within each discourse is a potent kernel of wisdom that grows upon each reading. Available on paperback and on Kindle.
In The Enlightenment Cycle, Dr. Lenz empowers the reader with the light and energy of enlightenment itself. With these talks, the last set of formal teaching tapes he recorded, Rama created a new paradigm for teaching Buddhism in the West.
Bulk discounts are available for teachers, contact hello@livingflow.com