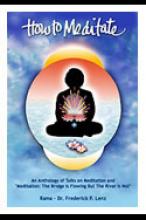 How to Meditate
How to Meditate features all of Dr. Lenz's recorded talks on meditation and includes his book of lyrical poetry : The Bridge is Flowing but the River is Not.
How to Meditate provides a full range of meditation techniques, knowledge and wisdom to deepen meditation practice and understand meditation's essential role in daily life.
This volume is excellent for both newcomers and longtime meditators. Open the book at any time to any page, and you will receive your daily quota of inspiration.