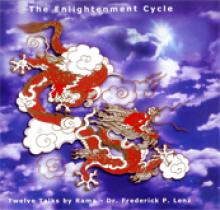 Meditation
Meditation is about making your mind calm and quiet. And if the earth was not so overpopulated and toxic, that would be an easy thing to do.
It's kind of tricky to meditate in this age. Rama – Dr. Frederick Lenz figured out a way to make it easier – which is to meditate to enlightened music. Rama infused certain musical compositions with the light of enlightenment. When you sit and meditate to this music – available for free download on this site – it is like sitting with an enlightened teacher.
Meditation is talk 1 of 12 in The Enlightenment Cycle series.
© ℗ 1992, The Frederick P. Lenz Foundation for American Buddhism.