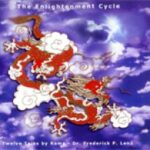 The Enlightenment Cycle
The Enlightenment Cycle talk set, recorded by Rama – Dr. Frederick P. Lenz in 1992, is essential coursework for students of American Buddhism. This set of 12 talks is a summation that represents an enormous body of information. While each talk covers many subjects, within each discourse is a potent kernel of wisdom that grows upon each hearing.
© ℗ 1992, The Frederick P. Lenz Foundation for American Buddhism.