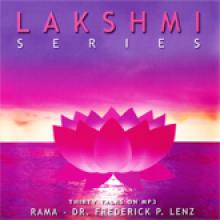 Spiritual Experiences, Dreams and Visions
Prepare for one of Rama's most inspiring and fun talks.  Rama defines spiritual experiences and declares, "the most common type of spiritual experience is the one that you're having at the moment.  We call it life."  Rama believes that every moment in our lives is spiritual.  
This talk invites the listener to join Rama in the spiritual experience of the moment. "As you sit listening to me, you're having a spiritual experience." Rama's words magically transport the listener into the realm of spiritual experiences: "Here we sit, the two of us today, just for a little while, a short time, beyond within, waiting in this lovely garden that the two of us are in today."
Along with the timeless quality of this talk, practical aspects such as dream yoga and keeping a journal of your spiritual experiences are also discussed, enabling you to have more spiritual experiences in your life.
Talk 18 of 28 in The Lakshmi Series.