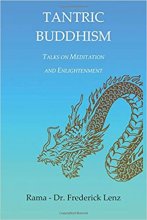 Buddhist Enlightenment
Buddhism involves bringing your mind into clearer states. We completely purify the mind and then we go beyond all states of mind. When there is no self and therefore no one to perceive states of mind, there is only enlightenment.
"If you want to become Enlightened…you have to unhook from anything that's impure and focus only on things that are completely pure and perfect all the time… we do it a little at the beginning, and then more and more, and then eventually, it consumes us – literally – until there's no self – there's only light." Rama – Dr., Frederick Lenz
Buddhist Enlightenment is talk 20 of 27 in the Tantric Buddhism series.
© ℗ 1990, The Frederick P. Lenz Foundation for American Buddhism.