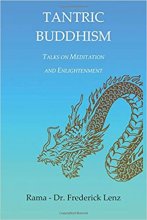 The Mature Monk
We do not need to shave our head and wear an ochre robe to meditate and progress on the path to enlightenment. No, we do not, and that is what is so exciting! We can meditate anywhere at any time. All we need to do is still our mind. Find out as a spiritual aspirant what attitudes and actions can help on our journey.
The Mature Monk is talk 3 of 27 in the Tantric Buddhism series.
© ℗ 1990, The Frederick P. Lenz Foundation for American Buddhism.