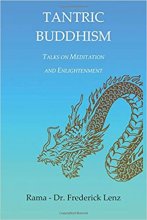 The Bhagavad Gita
The message of the Bhagavad Gita is to fight, to act, to play our part in life.  If we work well then we discipline our mind and body and the strength that results stays with us and leaves the body with us.  The Bhagavad Gita also urges us to seek enlightenment to go beyond the wheel of birth, death, and rebirth.
To remove yourself from life isn't the answer – "…you must walk among the things you desire, and your aversions – the things that you fear – and be unaffected. That's Buddhism… to be in a monastery and ashram is not always the answer because we don't fight, we kick back – we don't listen to Sri Krishna." Rama – Dr. Frederick Lenz
The Bhagavad Gita is talk 19 of 27 in the Tantric Buddhism series.
© ℗ 1990, The Frederick P. Lenz Foundation for American Buddhism.