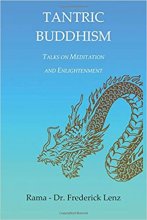 Professional Meditation
A professional in meditation is someone who is able, no matter what the state of their mind or life, to sit down, meditate, stop thought and enter the quiescent state.
But "no matter how high you go, no matter how deeply you perceive, you are only touching the bare surface of infinity." Rama – Dr. Frederick Lenz
Professional Meditation is talk 15 of 27 in the Tantric Buddhism series.
© ℗ 1990, The Frederick P. Lenz Foundation for American Buddhism.