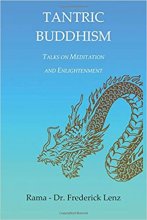 Focus and Meditation
All meditation involves focus until we enter into the quality-less, thoughtless essence. Detailed instructions for points of focus in meditation and for learning to re-focus the mind are presented.
As Rama – Dr, Frederick Lenz states, "the practice of meditation is emptying the mind. When the mind is empty, completely empty, it is perfect meditation. It's really that simple."
Focus and Meditation is talk 14 of 27 in the Tantric Buddhism series.
© ℗ 1990, The Frederick P. Lenz Foundation for American Buddhism.